Archive for the 'Authors' Category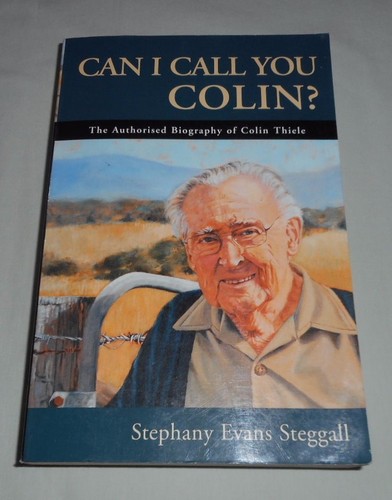 Can I Call You Colin? The authorised Biography of Colin Thiele
Written by Stephany Evans Steggall
Published in 2004 by New Holland Publishers (Australia)
I regret only ever having met Colin Thiele once in my life. I would love to have met him many more times than that but our paths only crossed on that one occasion. I would love to have met him many more times than that but our paths only crossed on that one occasion. I would love to have chatted with him about books, writing, literature, children, teaching, the environment and so many other topics. It was not meant to be.
Published books
All through my teaching career (1969 – 2004), I read many of his children's books to my classes over those years. He was a prolific writer and published well over 60 titles for children; many more if the various multiple editions are counted. In addition to his children's works, he published dozens of fiction and non-fiction titles for both children and adults. He contributed articles and stories to many magazines, journals and anthologies, and his unpublished speeches and talks would fill many more volumes. He wrote many radio scripts for ABC Radio here in Australia. He was also a prolific poet, publishing six volumes of poetry in addition to several volumes of children's poetry. And all this prolific writing was done part-time while holding down a full-time teaching position. What an amazing man.
Highly regarded
Through his works, I thought I knew him quite well. This biography, however, has fully rounded out my knowledge of one of Australia's most highly regarded writers and educators. This is a brilliant work and pays homage to a great South Australian, one who is held in such high regard here and abroad. The author of this work has researched her topic well, interviewing not only Thiele and his immediate family, but also many of his friends, colleagues, publishers, editors and hosts of others. Even some of his admiring fans are quoted, because hundreds, if not thousands of children wrote to him during his life.
Lifestory
The author covers every aspect of Thiele's life, from his childhood growing up on a farm in the Eudunda district of South Australia, to his time at university in Adelaide through to his war-time experiences in the 1940s. His early teaching career is well portrayed, along with his venture into married life and parenthood. Later he was an inspiration to many hundreds of young people training to be teachers.
Thiele struggled throughout much of his life between to demands of his chosen profession, and the passion he felt to always be writing. This biography shows the strength of character of Thiele in all his dealings, whether that concern was for students, family members, colleagues, editors or readers.
Challenges
Despite the challenge of an overpowering workload due to his profession, his writing and his family, Colin had one other debilitating challenge to cope with throughout much of his life, He suffered constant pain due to rheumatoid arthritis. As a result, he also endured many operations, but these never seemed to slow him down. Many times he set up his hospital room as a fully functioning office so the work could continue.
Inspiration
This biography has also inspired me to revisit many of Thiele's classic novels for children, as well as some of his non-fiction works and especially his poetry. Tracking down some of his poetry titles has proved difficult; thank goodness for inter-library loans!
Serendipity
The inspiration to read this biography has come through a serendipitous twist: the author Stephany Evans Steggall has recently become my daughter's neighbour while they are both teaching at Bingham Academy in Addis Ababa, Ethiopia.
In another serendipitous twist, I share the same birthday with Colin.
Vale, Colin
Sadly, Colin passed away in 2006. His much-loved books for children include Storm Boy, Blue Fin and Fire in the Stone, all of which have been made into popular movies. Another favourite is Sun on the Stubble which was made into a television series. His stories continue to live on, love by each passing generation of children and adults alike. Only recently it was announced that a remake of Storm Boy is being filmed this year.
Related reading:
To Kill a Mockingbird by Harper Lee.
I must say from the beginning that this is more of a personal response than an actual review. I have done many book reviews on this site over the years, and I plan to continue writing reviews from time to time. So much has already been said about this novel that what I could possibly add would be lost in a very crowded space.
Why did I read this book now?
I had always intended reading this classic. I just never got to read it. Throughout my other life as a primary classroom teacher here in South Australia for 35 years, I mostly read children's books. After one disastrous event, I always made it a personal policy to read a book myself before reading it to my class. It had to be suitable and appropriate for those in my class. Now in retirement, I am enjoying being able to read anything that interests me. Because of all the hype about Harper Lee's recently released second novel, Go Set a Watchman, and her more recent demise, I thought that it was about time I focussed my attention on her classic.
I am pleased that I did.
Classic status
I am not a good judge of what constitutes a classic piece of literature. I will leave that to the experts in the field. As with art, I am more of the "like it" brigade; I know what I like, and if I don't like it but others do, then that merely shows a difference of taste and opinion. Let's not get too upset with one another.
By any of the standards that I judge a book by, this has to be a classic work. It certainly has stood the test of time and is possibly more popular and more widely read than ever before. It is certainly well written and engages the reader like any great book should. It has memorable characters that stay with you forever – or certainly for a long time after reading. It has a simple premise and an intriguing plot. The story line carries the reader on, always turning the pages to see what happens next. I could go on, but I promised a personal response.
My response to this book:
In the previous paragraph, I indicated some of the elements that make this book a memorable classic work of literature. While I certainly concur with all of these statements, for me this book was far more than that. It has left a lasting impression. It is a glimpse into the times and culture of a small American town in the 1930s. It has made me realise the importance of the little events of life which have such an impact on ordinary people. I couldn't help thinking of my own period of growing up in a small Australian farming community in the 1950s, and comparing the two.
Racial tensions
The most outstanding theme of this book – and arguably what makes it so outstanding – it the author's portrayal of the racial tensions of the times in which it is set. The contrasts are stark. The legacy seems to be ongoing. (That's if I read the current American culture correctly.) The inequalities and differences between all levels of society are certainly drawn starkly, and the reader is left in no doubt about those divisions.
Australian literature
Australia has been largely free of racial tensions until the last few decades. And so far, we do not have an outstanding classic work of literature which has addressed the obvious tensions in our society. Layered upon that is the multicultural aspect of modern Australia and we have a simmering melting pot. Our country is ready for such a work as this. Or am I being too critical of Australian literature? The only works which seem to come close to Mockingbird would be Kate Grenville's The Secret River and David Malouf's Remembering Babylon. Remember, though, I have not yet read widely in classic Australian literature, so listing only two titles seems rather inadequate.
Conclusion
In summary, I can now understand why To Kill a Mockingbird has received so many accolades. I can appreciate its place in the annals of American literature; indeed, it stands tall in the literature of the world. It is one of those books which should appear on every "Top 100 Books You Must Read" list.
One question remains: Did I enjoy the book?
To that I give an unqualified "YES".
Readers
Questions for my readers:
What are your responses to this book?
What about the book did you enjoy – or hate?
Leave a few comments, please.
Good reading – and good writing.
Trevor
Graeme Clark: the man who invented the bionic ear by Mark Worthing, 2015, Sydney, Allen & Unwin.
Graeme Clark grew up with a powerful and compelling vision.
He wanted to develop some way of helping his father regain his hearing. In a simple way this encapsulates the driving force behind why he became a doctor, surgeon, and later an inventor. Along the way he developed many other skills necessary for his dream to be realised. The road to success was, at times, a very bumpy one. One of the many skills Clark had to learn was fund-raising to support the development of the bionic ear. Bizarre – yes – but often that is the way with visionary people; nothing can stop them, even if the road takes some unexpected twists.
Worthing has resisted the temptation to dwell primarily on the technical side of the development of the bionic ear. Sure, there is enough scientific detail for readers who would like to know. Instead, the author has let his focus be on the man himself, what motivated him and the role of Clark's Christian beliefs and values in the whole process. This comes through very strongly throughout the book. The author has successfully portrayed an ordinary Australian man, with a uncomplicated values but with an extraordinary vision driving him.
Probably the one thing that most impressed me about the portrayal of Clark the man was his uncomplicated reliance on prayer. Whenever the going got tough, whenever obstacles faced him, whenever he was perplexed, and whenever he faced criticism or outright opposition, Clark prayed. The development of the bionic ear was technically, electronically and medically very complex. Clark's almost child-like faith in God and his simple, uncomplicated prayers carried him forward.
Now hundreds of thousands of profoundly deaf people all over the world are thankful to this man.
It is a truly inspirational book and highly recommended.
My Privilege:
I had the privilege of reading early drafts of this work. This came about through my involvement in a writers' group run by the author. Dr Mark Worthing was one of my lecturers and mentors at Tabor Adelaide when I was completing my Master of Arts Creative Writing. Later we became friends and lecturing colleagues at Tabor.
You can read more reviews I have written here.
Good writing. Good reading.
Trevor
I always find it interesting and somewhat enlightening when I see a film which features a writer or someone writing. I have seen quite a few over the years and even have a few in my own collection of DVDs.
I get a weekly newsletter from the Australian Writers' Centre. It is usually both informative and entertaining. Their blog recently featured a list of movies which feature writers or something about writing. You can access the article here.
This is quite a long list and some of my favourite movies are featured on the list, including:
Miss Potter
Finding Neverland
Iris
I must admit that there are many on the list which I have never seen. Perhaps I need to reactivate my membership of the local video hire shop – if it is still operating. I haven't darkened its doorstep in many years. Too many books to read – and write!
There is also a lingering feeling that this list is far from complete. I have just quickly skimmed over my own collection of DVDs and can add the following:
Moulin Rouge
As Time Goes By (okay – this is a television series)
MASH (okay – another television series and only occasionally features a writer or writing)
Jewel of the Nile
Books into movies
Now – if we extend the list to include books which have been made into movies, the list would be enormous. The latest one I have experienced is The Hunger Games: Mockingjay 2 which I just happened to see yesterday. Good movie, and a satisfactory ending to the series. I don't think I will get around to reading the books; I have too many other piles of books and magazines waiting to be read.
Good writing. Good reading. Good viewing.
Trevor
Vanity publishers do nothing but rip you off.
Avoid them at all costs – or it will cost you dearly.
For those of my readers who may be looking desperately for a publisher for their writing, but have never heard of "Vanity Publishers", here is a quick introduction. There are plenty of genuine publishers, some which still accept manuscripts from total newbies. They may take ages to respond but once your manuscript is accepted for publication, they pay you a percentage of the proceeds of the sales (known as royalties).
Vanity Publishers operate in a quite different manner. They rarely edit your book, nor do they promote sales in any way. You are expected to make payments up front, then you are expected to buy a minimum number of copies of your book. Many who go this way end up unable to sell more than a handful of copies – if any – and finish with a shed full of books they cannot sell. Meanwhile, the author is left several thousand dollars poorer.
Fortunately I have never ventured down this slippery slope. I was warned early on in my writing career to avoid such scams.
For an in-depth discussion on this topic have a read of this article: How to identify a Vanity Press  Publisher and avoid being ripped off.