Book review: The Valley Between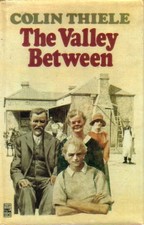 Book Review: The Valley Between by Colin Thiele, published by Rigby Publishing in 1981.
Biography
Last week I reviewed the official biography of Colin Thiele. You can read that review here. I found this biography to be very interesting and quite inspirational. Thiele was a prolific writer despite also being a full-time teacher and a much-in-demand public speaker. In his day, he was a much-loved author, particularly regarding his works for children of all ages. His new books were always eagerly awaited and sold out quickly. I believe that his writing is still held in high regard, though many younger readers have probably not heard of him. Even younger teachers may not be aware of the huge contribution Thiele made to Australian literature.
Inspired
After reading his biography, I was inspired to reread some of his works. I have a few in my own library, but for some titles, I had to go to my local public library. Not all of his books are available here locally, so I am grateful for the provision of interlibrary loans. (We have access to all the books held in public and some school libraries throughout our state of South Australia.)
The Valley Between
One of the books I choose to read was The Valley Between,  a novel for children set in the mid-north of South Australia in the 1930s. The valley in the title refers to the Barossa Valley about an hour's drive north of Adelaide. This is a world famous wine region. Thiele grew up a short distance north of this valley. He was born in 1920 and so this book very much reflects his boyhood experiences and exploits. It would be interesting to know how much is from personal experience, and how much is from his very fertile imagination. This story roughly continues from his earlier and better-known novel, The Sun on the Stubble. Both were later adapted into a television series. Probably his best-known work is Storm Boy which later became a very popular film of the same name. A remake of the film is under way this year (2017).
Vignettes
The narrative of The Valley Between is mostly in short vignettes of the happenings in the life of the protagonist, Benno Schulz. Each chapter is an episode in itself, but the over-arching storyline follows Benno's first experiences after leaving primary school. In those days, many children did not go on to secondary or tertiary education.
While each chapter can be read in isolation just like a short story, several characters appear in each episode, intersecting with the life of Benno as he grows up on a farm near the imaginary town of Gonunda. The town is quite clearly reflective of the town of Eudunda where Thiele grew up. There is a statue of Thiele in a park of the town.
German influences
Many of the characters in the story are descendants of the German settlers who came to South Australia in the 1800s. Thiele uses their distinct dialect, a mixture of English, German and mash-ups of both languages to great effect. He has even included a glossary of German words at the back. I, too, have the same heritage, so the language is easy for me to read. Contemporary readers may struggle a little until they get used to it. This is a small price to pay for reading this delightful story. Many incidents are laugh out loud moments as Benno gets into all kinds of adventures, both deliberate and inadvertent.
Descriptions
Colin Thiele is known for his rich descriptions of the environment in which his stories are based. His words sing with metaphors and similes which bring his settings to life. His wonderful characters come to life through his words and their sometimes bizarre actions and attitudes. While I have said that this book is somewhat episodic in structure, the narrative carries the reader on to the satisfying conclusion.
When I first came across this title in a list of his works, I thought that I had missed reading this title. On getting about half way through, I realised that I had read it, albeit several decades ago, possibly when it was first published. It is well worth tracking down a copy to read.
Further reading: