Review: Can I Call You Colin?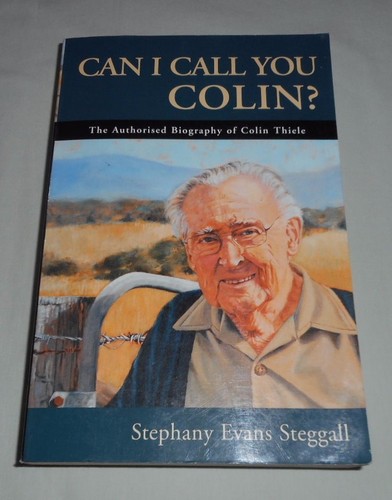 Can I Call You Colin? The authorised Biography of Colin Thiele
Written by Stephany Evans Steggall
Published in 2004 by New Holland Publishers (Australia)
I regret only ever having met Colin Thiele once in my life. I would love to have met him many more times than that but our paths only crossed on that one occasion. I would love to have met him many more times than that but our paths only crossed on that one occasion. I would love to have chatted with him about books, writing, literature, children, teaching, the environment and so many other topics. It was not meant to be.
Published books
All through my teaching career (1969 – 2004), I read many of his children's books to my classes over those years. He was a prolific writer and published well over 60 titles for children; many more if the various multiple editions are counted. In addition to his children's works, he published dozens of fiction and non-fiction titles for both children and adults. He contributed articles and stories to many magazines, journals and anthologies, and his unpublished speeches and talks would fill many more volumes. He wrote many radio scripts for ABC Radio here in Australia. He was also a prolific poet, publishing six volumes of poetry in addition to several volumes of children's poetry. And all this prolific writing was done part-time while holding down a full-time teaching position. What an amazing man.
Highly regarded
Through his works, I thought I knew him quite well. This biography, however, has fully rounded out my knowledge of one of Australia's most highly regarded writers and educators. This is a brilliant work and pays homage to a great South Australian, one who is held in such high regard here and abroad. The author of this work has researched her topic well, interviewing not only Thiele and his immediate family, but also many of his friends, colleagues, publishers, editors and hosts of others. Even some of his admiring fans are quoted, because hundreds, if not thousands of children wrote to him during his life.
Lifestory
The author covers every aspect of Thiele's life, from his childhood growing up on a farm in the Eudunda district of South Australia, to his time at university in Adelaide through to his war-time experiences in the 1940s. His early teaching career is well portrayed, along with his venture into married life and parenthood. Later he was an inspiration to many hundreds of young people training to be teachers.
Thiele struggled throughout much of his life between to demands of his chosen profession, and the passion he felt to always be writing. This biography shows the strength of character of Thiele in all his dealings, whether that concern was for students, family members, colleagues, editors or readers.
Challenges
Despite the challenge of an overpowering workload due to his profession, his writing and his family, Colin had one other debilitating challenge to cope with throughout much of his life, He suffered constant pain due to rheumatoid arthritis. As a result, he also endured many operations, but these never seemed to slow him down. Many times he set up his hospital room as a fully functioning office so the work could continue.
Inspiration
This biography has also inspired me to revisit many of Thiele's classic novels for children, as well as some of his non-fiction works and especially his poetry. Tracking down some of his poetry titles has proved difficult; thank goodness for inter-library loans!
Serendipity
The inspiration to read this biography has come through a serendipitous twist: the author Stephany Evans Steggall has recently become my daughter's neighbour while they are both teaching at Bingham Academy in Addis Ababa, Ethiopia.
In another serendipitous twist, I share the same birthday with Colin.
Vale, Colin
Sadly, Colin passed away in 2006. His much-loved books for children include Storm Boy, Blue Fin and Fire in the Stone, all of which have been made into popular movies. Another favourite is Sun on the Stubble which was made into a television series. His stories continue to live on, love by each passing generation of children and adults alike. Only recently it was announced that a remake of Storm Boy is being filmed this year.
Related reading: