Archive for the 'Competitions' Category
Over the last three decades or so I have submitted hundreds of pieces of my writing to a variety of publications and competitions. A reasonably healthy percentage of these have been published or performed. My list of writings have included:
poems
short stories
articles
plays
songs – well, one song!
comedy routines
picture books
novels
teaching materials
devotional material
Writing published on my blog sites
In addition to the above figures I have self-published over the last 10 years more than 4000 articles combined here on this writing site, and on my other sites, Trevor's Birding and Trevor's Travels and on our church website where I am the webmaster.
That's a heap of words. And I have many, many more waiting to be sent off to various publications, and heaps more ideas for more stories, novels, poems and articles. Finding a balance between creating new writing and submitting one's writing is always a fine line to walk.
I must admit that I err too much on the side of not sending out my writing to places where it stands a good chance of being published.
In the light of that last statement I find that it is good to come across an article which outlines some basic reminders of what to look for when preparing a manuscript for submission to a magazine or a literary journal. I recently came across an article titled "7 questions to ask yourself before submitting to literary journals."
It is worth taking a look at; while you are gone I think I will prepare a few submissions of my own. After all, I've had a list of them ready for a week now.
Good writing. Good submitting.
Trevor
Over the years I have submitted quite a few poems and stories to writing competitions, with a moderate level of success. I should enter far more than I do because I have such a vast number of poems and a few stories that the only problem is actually choosing which pieces go where. I have also been intending sending off far more items to magazines and journals in the hope of being published.
To me there seems little point in all of that writing languishing unread and unloved on my hard-drive. I would encourage my readers to do the same. In the light of that I will include here details of some up and coming competitions and publishing opportunities. Here is the first one:
The 2015 Tabor Adelaide Creative Writing Awards
Submissions for this creative writing competition are now open and will close on March 6th 2015. Only one entry for each category – poetry and short story – is allowed per person. Unlike most competitions, entry for this one is free.
This is the second time this competition has been offered and I intend to submit a poem in the next day or so. I do not have a suitable story on the set theme "Hope against hope" and I am hoping that some inspiration will come my way in the next week or so.
When I was completing my Masters degree at Tabor a few years ago we often talked about the possibility of hosting a writing competition but nothing came of it then. It is therefore great to see it finally get off the ground and last year's event was a huge success with hundreds of entries from all over Australia.
Link:
Good writing.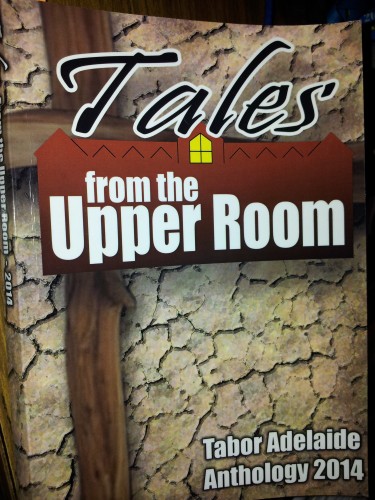 I haven't been sharing some of my recent publishing successes here, but this one is a little special to me. Two nights ago I attended the launch of the latest volume in the series "Tales from the Upper Room", and anthology of stories and poems written by those associated with Tabor Adelaide. This is where I completed my Master of Arts Creative Writing a few years ago.
The anthology is now in its eighth edition since first being published in 2005 by the staff and students who were the first to be involved in the creative writing course at Tabor. A new volume has appeared every year except one. My stories and poems have appeared in all but the first three volumes.
The collection of stories and poems have been submitted by students, staff and alumni and their family and friends. Each edition is an eclectic collection of the deeply moving, the curious, the quirky, the humorous and sometimes surprising. Many are confronting, all are well written and most are worthy of revisiting.
I only had one poem in this edition, but that's okay with me. It's great to see many new names attached to the selection; this shows that the creative writing courses are alive, thriving and raising the bar of literary excellence.
A word of explanation about the title "Tales from the Upper Room" is in order. The creative writing courses had as their home in the early days a room on the third floor, affectionately known as The Loft. It conjures up images of the writer's garret of legend, and it was here that the first meetings of the writers' group met and where the concept of this anthology was conceived. But the "upper room" also brings to mind the room where Jesus and his disciples met for the last supper before his crucifixion. Tabor Adelaide started as a theological college, and most people associated with it are Christians, adding an interestingly significant appropriateness to the title.
Writing competition:
The launch also included the announcement of the winners and runners-up of the inaugural Tabor Writing Competition. It had two sections: poetry and short stories. This was a brave new venture and with 299 entries was immensely successful. Entries came from every state and territory of Australia. I should add here that I decided not to enter this time. I must set my sights high and aim to enter next time around.
Late last week our next door neighbour asked permission to enter our property over the weekend. He was planning to trim some of our trees leaning over his fence. Not only would this be much tidier, it would reduce the fire hazard on his property, something we have to be very aware of here in South Australia, especially as another summer is approaching rapidly.
As he started Friday afternoon I went over to chat to him, asking for more details on what he proposed to do. One of the tools he had hired was a chainsaw with a long extension arm on it. At full extension he could reach nearly 5 metres while standing safely on the ground. I immediately saw the potential regarding one tree in our garden.
I had forgotten the obvious.
A few months ago I had tried climbing up a ladder to lop the top two thirds of a tree near the house. From about two in the afternoon this tree shades our PV solar panels, diminishing their efficiency for the rest of the afternoon. Even cutting this tree to the base will not kill it. In fact, mallee trees thrive on this trimming and will regrow quickly. My attempt to trim the tree was unsuccessful; it was unsafe at that height.
I had forgotten the obvious.
The obvious solution was to hire one of those very useful chainsaws with an extension. Doh. I offered to help my neighbour in his trimming – if he would come over and trim my tree. In about ten minutes the job was done. I then spent the next few hours helping him in return, offering to tidy up after him cutting and getting rid of the cut wood. Next winter we will keep warm with this wood.
Forgetting the obvious
When we are writing we can so easily forget the obvious. We blaze away writing a story, poem, article or novel and then shoot the manuscript off to a publisher. Then we wonder why it didn't get accepted when it returns many months later. Some of the obvious things we forget include:
Proofreading for spelling errors.
Checking that the grammar is correct.
Rewriting repetitive or hard to understand parts.
Checking the publishers requirements; don't send a poem to a car enthusiast's magazine – unless they specifically are asking for poems about cars.
Check the maximum (and often the minimum) word count required; this is especially important in writing competitions.
Get someone else to read your writing, checking for understanding, grammar and spelling. And typos.
Keep a copy of your work.
Check you've included your name and contact details.
Keep writing. Don't twiddle your thumbs while waiting for the publisher to reply; it could be months!
Good writing.