Archive for the 'General' Category
This post is not about writing, or about books or even about reading, but it's something I'd love to share with my readers.
Yesterday my wife and I had the delight to see one of the shows in the Adelaide Fringe Festival, an exciting part of the world-renowned Adelaide Festival of Arts. The show was called Circolombia, a vibrant, energetic and compellingly hypnotic acrobatics display mixed with rap music and dance.
The stars of this rhythm-fest are all young people from the streets of Cali, Colombia. They have escaped the dangers of those streets and have taken their skills onto the world stage for all to see. My family has close ties with the city of Cali – both of my grandchildren were born there and lived for the first few months of their lives in a local orphanage. I can now see where they get their love of music from – as well as their amazing sense of rhythm.
One of my concerns about this afternoon's performance was the Clipsal 500 car race, the track being about 150 metres from the tent where we sat watching the show. The main race coincided with the performance. I need not have worried. The booming reggaeton soundtrack showed that the high-octane performance inside the circus tent was more than a match for the average-octane cars on the street circuit car race nearby.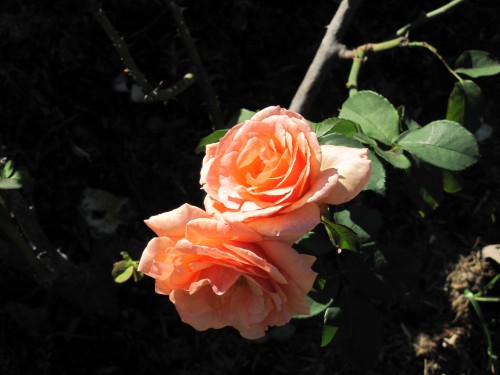 Happy New Year to all of my readers.
I didn't posted here on this site much last year. Sorry if this has disappointed my readers. It probably indicates that I have been rather busy; nothing new in that. As from this month and the new year my situation has changed considerably. I am hoping to post here on a much more regular basis in the coming twelve months – and beyond. I have some – I hope – exciting and interesting new projects in the formative stages of development, now that I have the time to devote to them, so stay tuned.
In the meantime, I wish all my readers a wonderful new year; I hope that 2013 brings you writing success.
Good writing.
I am currently reading The Guernsey Literary and Potato Peel Pie Society written by Mary Ann Shaffer. I borrowed it from my daughter more than a year ago and have just managed to squeeze it into my very demanding reading schedule. Actually, I have been wanting to read it for some time. It took a little while for me to warm to the format – a series of letters written from the various characters to other characters in the story – but once into it about 30 or 40 pages it really grabbed me. The letters range from a sentence or two through to many pages, recounting the lives and experiences of the eclectic gathering of characters who experienced the German occupation of the Channel Islands during WW2 as well as a few in London during the same time. It's an absorbing insight into the lives of ordinary folk in extraordinary circumstances.
The letters have set me to thinking. In these post-modern times we  appear to have lost the gentle art of letter writing. In an age where many people are writing more than ever before – emails, Tweets, blogs, Facebook status updates – we rarely take the time to actually take pen to paper and physically write a letter. Even the birthday cards are quickly scrawled messages and our Christmas cards have a quick message plus often a chest-beating, look-at-my-family typed and printed in gaudy colours newsletter.
This is a great pity.
There is something wonderful about receiving a hand written letter from a friend or family member, especially those living in remote places from our normal circle of activity. The effort taken to actually take the time to hand write a letter is considerable in these instant times. And then to Snail Mail it? Well, that could take days to arrive – or more. How many homes actually have a supply of postage stamps any more? Or writing  paper and envelopes for that matter. I also despair at the trend in our schools to no longer teach physical handwriting skills. I foresee a generation developing who cannot put pen to paper, let alone actually write a letter. Our language will suffer and drown under an ocean of SMS messages and Tweets and degenerate into a series of communicative grunts.
I think I'll go and write a letter to my brother – but first – I'll just Tweet about it.
Warning: This post has little to do with writing. In fact, it probably has nothing to do with writing – except that I'm writing it.
What does every man need?
Quite a few things, I dare say. Generally most of those "needs" could easily be reclassified as "wants".
In my opinion, however, there is one thing this man needs: a good pair of slippers. After a hard day's work there are few more comforting or relaxing things as a good pair of comfortable slippers.
Now I haven't had a proper pair of slippers in several decades. Instead I have replaced slippers with Ugg boots, that wonderful Australian invention with its soft fleecy lining that ease any aches in the feet and is deliciously warm in the winter, cool in the summer and just about perfect for the rest of the year.
Sadly, my old pair of Ugg boots met an unfortunate end recently; they were thrown unceremoniously into the rubbish bin accompanied by rapturous applause from She-Who-Must-Be-Obeyed. (I made that last bit up – the bit about the applause.) My wife has been encouraging me to find a suitable replacement pair for longer than I care to remember. The fleecy lining had been flattened many years ago. The side of one had developed a rip to rival the San Andreas Fault and the outsides no longer looked in prime condition. They could have been mistaken for a oddly shaped refugee from a compost heap.
I tried. I really tried to find a replacement pair but extensive searches and numerous test fittings of potential replacements unearthed nothing suitable. (To be honest, I only went to one local store, and then only tried on about 3 pairs.) Imagine my delight, and my wife's approval, when I found a pair recently that not only felt comfortable as to size, but also reminded me what I had been missing for so many years.
They are wonderfully comfortable.
Just perfect for relaxing every evening. Don't know why I didn't throw the old ones away several years ago.
Read more about Ugg boots here.
Good writing.
The man and the sea.
No – not the famous novel written by a far better writer than I'll ever be. (Hemingway: The old man and the sea.)
This is about a strange man I saw a few months ago. What this man was doing has puzzled me for months, and I'm no closer to discovering what he was doing. My wife and I were at the beach having a late picnic lunch. Nothing unusual about that. Actually, we were not dressed for the beach and so we sat in the car to eat our lunch. It was wild and blustery, threatening to rain at any moment, not like the scene above. That photo was taken at an entirely different beach on a much better day. But I wander off topic.
We were parked in the car park a few metres from some wooden steps leading across the sand dunes and down to the beach. An old rusty station wagon pulled up alongside of our car and a rough looking unshaved man emerged from the driver's seat. Next, a woman, presumably his wife, and another older woman, possibly his mother, also alighted from the vehicle. They were not well dressed; in fact, they certainly didn't look attired for the beach at all.  The wind  whipped their bedraggled hair as they gathered about ten plastic water containers from the rear of the car. The kind that hold about twenty litres.
They carried these down to the water's edge, depositing them just clear of the waves. The man had no shoes and we watched as he waded into the shallows and proceeded to fill each water container from the sea. As each was filled he placed it beyond the reach of the waves and filled the next one. When all ten were full of sea water, he started carrying them up to the car, struggling through the soft, squeeky sand and grunting with effort up the steps and to the car where he placed them in the back. Five times he made this trip, two containers at a time.
All three then drove off in the car carrying about two hundred litres of salty water in the back. How strange. Why would anyone want to collect sea water – and so much? I'm lost for an explanation of this strange behaviour.
Can any of my readers throw any light on possible reasons?
Of course I was so puzzled I didn't think of the obvious course of action. I could have asked him! But I didn't, so I'm left with this conundrum; why?