Archive for the 'Reviews' Category
Book review: Malini by Robert Hillman.
Published by Allen & Unwin – Through My Eyes series.
Set in Sri Lanka during the recent civil war, this novel is a powerful portrayal of how a war can seriously impact the daily lives of so many innocent people, and especially children. The action begins from page one when Malini and her younger sister Banni are thrust into the conflict one morning at dawn. The Tamil soldiers come to their village in northern Sri Lanka and force everyone out of their homes at gun point.
Terrified, and not knowing what it is all about, their family is on a forced march towards the coast where they will be used as human shields against the army. Their quick thinking father helps them to escape into the nearby forest, after thrusting a mobile phone into Malini's hand. The two sisters successfully escape detection, but that is just the beginning of their troubles. Malini is unwillingly forced into the role of a parent, and when they "adopt" another group of vagrant children, all orphans, her troubles just multiply. Not only does she need to care for her growing "family", she has to avoid the numerous patrols, find shelter for them to sleep, and feed them. The task is almost too much.
This story quickly becomes not only a story of survival against terrifying odds, it is a journey across the country in quest of her grandfather's village where she hopes they will find refuge. Skilfully written, tense and with a great awareness of the culture, geography and people of Sri Lanka, the author has written a masterful novel, both fast moving and adventurous.
This is the sixth title I have read in the series Through My Eyes, a series dealing with the experiences of children in conflict zones. The dedicated website for the series includes teachers' notes, author interviews and more. See the links below. I have also included links to other reviews I have written of books in this series.
Highly recommended.
Links: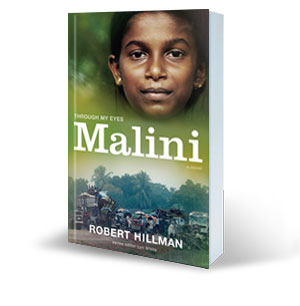 Every now and then one comes across a book or a film which has a lasting impact upon one's life.
This is one such book.
The story of Malala Yousafzai is very well documented, so I only really need to give a bare outline here for the remote possibility that a reader may not have heard of her. Growing up in Pakistan Malala and her teacher father became known throughout their country – and worldwide – for their attempts to ensure that all children have access to education, and in particular girls.
During most of her life, however, Malala has seen the obstruction to this fundamental right by various leaders and influencers in Pakistan – and Afghanistan as well. The Taliban actively discouraged girls from becoming educated. Their lack of success led to them openly attacking whole communities, forcing the closure of hundreds of schools and even destroying them. In this process many thousands were killed or became refugees in their own country.
In this book, Malala graphically depicts her personal struggle to be educated, her father's unwavering support and determination, and the terrible cost they as a family endured, culminating in her being shot in the head while on her school bus by a Taliban adherent. She plainly explains all of this this against the current political and religious environment, and her determination to continue.
The latter part of the book gives an almost matter-of-fact account of her treatment, first in Pakistan, then in the UK, and her eventual recovery. Despite the attack she seems to have no malice or bitterness about what happened but rather an even greater desire – a firm resolve – to see all children, and especially girls, be fully educated, and this on a global scale. Subsequently she has spoken personally to many world leaders, addressed the United Nations, and more recently been awarded the ultimate accolade – the Nobel Peace Prize, at age 17, the youngest ever recipient.
She is still a teenager.
I think that it is incredible to realise that she was only born in 1997. She has already achieved so much in her short life. Her life, and this book, should stand as an inspiration to the current generation of young people around the globe – and it am sure it will continue to be an inspiration to generations to come.
Highly recommended.
Good reading.
Trevor