Search Results for 'writing prompts'
During our tour of Morocco some years ago now we came across many beautiful buildings. Many of them have exquisite tiled floors, decorated walls and ceilings and were architecturally very interesting. As we travelled through the Berber regions in the southeast of the country, through the Atlas Mountains and the intervening valleys, we came across many abandoned kasbahs, similar to the building shown above. In fact, this photo was taken on the Road of a Thousand Kasbahs.
Writing prompts:
The Road of a Thousand Kasbahs has an exotic and interesting ring to it. Write a story explaining how this road came to be so named.
Ask yourself the question: 'Who lived in this kasbah?" Write about their lives, their romances and perhaps why this was their chosen place to reside.
Write about how this particular kasbah came to be deserted sometime in the distant past.
Write a series of love poems about a person who had lived in this kasbah, and how their love had been thwarted by political or family events.
Research the history of the Berber people or the kasbahs in this region. Incorporate some of your discoveries in a story of fiction, weaving real events into your fiction.
Conditions of use:
Feel free to use any of the story starters listed above.

Change anything to suit your needs.

Give it your best shot.

Edit your work carefully before sending it off to a publisher or posting it on your blog.

Let me know in the comments section how it went.

If you publish your story on your website or on your blog let me know so I can make a link to it for others to read.

Now start writing.
Good writing.
Trevor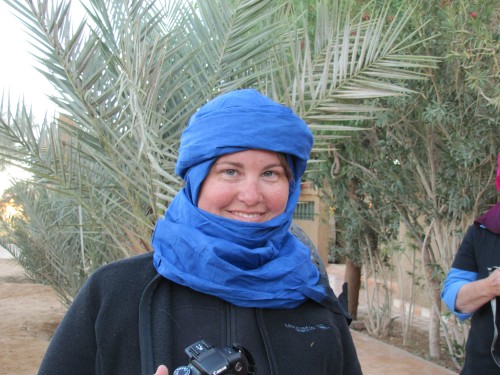 Who is this woman?
That is the main question I am posing for this series of writing prompts. I should add that I know who she is, and what she was doing in this photo, but I will keep that to myself. I don't want the 'truth' to influence your creativity in any way.
Possible writing ideas
Below is a list of possible ideas or prompts for your writing. You can follow any one of them in your writing endeavours, or you can take an entirely different tack to any I have suggested.
Over to you:
Who is the woman in the photo? Describe her and imagine her background, writing a fictional biography of her.
What is she doing? Write a descriptive piece about what she is doing, or has just done, or is about to do.
Why is she smiling? Write a short story – even a flash fiction piece – giving the back story of what has caused her to be so happy.
What the significance of the way she is dressed? Do some research on the different ways of dressing in different cultures, and write a report on your findings. Or use this information to give colour to a story you are writing set in that culture.
Write a poem about this woman – perhaps an ode, or a sonnet of admiration.
Write a short story in the first person starting with the words: "I thought I would never see the day when I…"
Incorporate in a short story a significant event in the life of this imagined woman, making sure that the date palms in the background play an important role in the story.
Write a personal account of a time when you visited an exotic destination. What did you see and experience, how did you feel, and why do you want to return?
Write about a time when you saw a person dressed in an unusual or a memorable way. Describe your reaction. How did your encounter change you, or make you feel?
Write about a time when you dressed in a special way for a party, and how you felt. Imagine that you were the only one dressed in a costume, and how that made you feel. Craft these feelings into a short story, or even the opening section of a novel.
More writing prompts
You can access many more prompts for writing here.
And you can find many hundreds of short story starters here.
Good writing.
Trevor
I took the photo above while on a tour of Morocco in December 2011. You can read more about my travels on Trevor's Travels.
My wife and I found that our experiences over just two weeks in Morocco were not only fascinating – they were almost overwhelming. The colours, the sounds, the aromas, the food, the masses of people in the medinas, the amazing mosaics everywhere and the silence of the Sahara. Everywhere we looked we saw new things, different things, amazing and downright perplexing things.
I found it easy to write a daily journal during our trip. I also wrote many poems along the way. (You can read some of my poetry here.) Unusual experiences, or undertaking activities which are out of our usual realm of experience are often excellent stepping off points for writing.
Today I want you to focus on the photo of the farmer shown above. I am assuming he is a farmer on his way to, or just coming back from, the market place. Here are some ideas to help you with your writing.
Writing prompts:
Imagine you are the farmer in the photo. Reminisce on your day so far.
Write a poem (or poems) inspired by the photo.
Imagine the man in the photo has had a tragedy in his life recently. Describe how he is feeling, what happened and how he is going to respond to his changed circumstances.
Use the photo as a jumping off point for a short story. It does not have to be set in Morocco.
Where is the man going? Where has he been? What is his purpose in travelling along this road? Let your imagination soar.
Imagine that the man has just heard some bad news. Describe his feelings, trying to get inside his head, his thoughts, his emotions.
Write a story about the man in the photo assuming that he is not a farmer. What is he doing? Where is he going? What is his background? What happens next?
Good writing.
Trevor.
My short story starters remain popular month after month.They are the most accessed articles on this blog. You can access these ideas by clicking on the link below.
Also becoming popular are the articles in my writing prompts series of articles.
Today we have another 20 writing prompts. Use these as warm up activities, or for ideas for stories or articles or blog posts. Use them however you like. Let me know in the comments how you went using these ideas.
Twenty Writing Prompts:
Write about your favourite fruit.
Who is your favourite famous person in history (alive or dead)? Write down a list of questions you would like to ask during an interview.
You are waiting for a bus. A public phone starts ringing and you answer it. Write down your conversation.
You go fishing and catch your best fish ever. As you take it off the hook, it talks to you. Record your conversation.
Describe the life of a clock – from the point of view of the clock.
A small spaceship flies in through your window and lands next to your computer. Describe your reaction. What do you do next?
Describe the worst disaster you've ever experienced.
Write the first sentence of the novel you want to write someday. Make it great.
"It's not over yet." Write down what you think might happen next.
Write about the things you wish you had done on your holidays.
"That's what's wrong with this organisation." Make a list of the things that need correcting. It might be best if you don't leave this list lying around at work.
Write about the things you are not certain about.
Describe what happened tomorrow.
Imagine you are an ant living in a colony of ten million ants. How valued do you feel? Write about your feelings.
One of your hens hatches an egg containing a small dinosaur. How do you look after your new pet?
Imagine your best friend has died. Write an obituary for your friend.
"I thought this would never happen to me." Describe what happened and how you dealt with the situation.
Make a list of things you could do when sick in bed.
"My life is based on a true story." Write about the things that you wish had happened in your life.
Make a list of the highlights of your life so far.
Further reading:
Sometimes writers get stuck for ideas. This might just be a temporary blip on the radar screen. If it persists over a long period of time, the dreaded writer's block might be the cause.
Whatever the situation, writers are left without ideas. This is where my very popular short story starters can help. Then we have this series of writing prompts to get you out of those writing ruts. Today I present the latest list of writing prompts.
Use these as writing warm up activities. Use them as jumping off points for stories, or magazine articles or even blog posts. Use them however you wish.
Twenty Writing Prompts
Write about a career you have always dreamed about.
Write a conversation between a cow and a blade of grass.
What is your favourite household appliance? Write about its life from the point of view of the appliance.
If you had a choice, where would you live and why?
Write a list of ten things you would never write about.
Write a list of menu items you would offer to an enemy who came into your restaurant.
Choose an item in the room. Describe it without saying what it is and from the object's point of view.
Make a list of the ten greatest inventions ever.
Write five things you would never tell your children – or your parents.
You are alone in the house. Your cat/dog starts talking to you. Record your conversation.
Choose a colour. Write about how it would feel if everything in the world was that colour.
A stranger approaches you in an airport and asks for a thousand dollars. Record your conversation.
Describe boredom. Make your description exciting.
Assume that more ice creams are sold on Tuesdays. Write a short report on why this is so.
Take on the role of your editor. Write the most devastating rejection letter you can imagine.
What would you do if you could live for a thousand years? describe your life.
Make a list of ten things that the world would be better off without. ("Things" – not people!)
Describe the best party ever. Who would you invite? Where would you hold it? What would you have to eat?
Describe what you would do if you found an elephant in your garden.
Write down your thoughts about the most controversial current news item.
Further reading: