Hand me a (poetic) pencil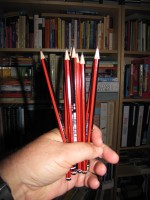 I love pencils.
I always have a good supply of 2B pencils on my desk, and a back up supply in the drawer of my desk. I love the feel of a pencil in my hand as I write. This is especially so when writing poetry.
I almost always use a 2B pencil when composing poems. The sensuality of holding a pencil generates a creativity I rarely get using a pen or a keyboard. After the poem is crafted and has morphed through several drafts, a final copy is then typed up on my computer. Very little changes once I've typed it, perhaps only a little formatting and minimal changes to punctuation.
For most of other writing I now use the computer keyboard exclusively. This includes stories, novels, essays, articles and blog posts. I just do not have the time (or the patience) to compose in pencil or pen first. I may occasionally jot down notes or an outline in pen or pencil, but I've also done that on the computer. It's a necessary part of being productive.
What do my readers use when writing?
I'd be interested in hearing your comments.
Good writing.