Archive for the 'Master of Arts course' Category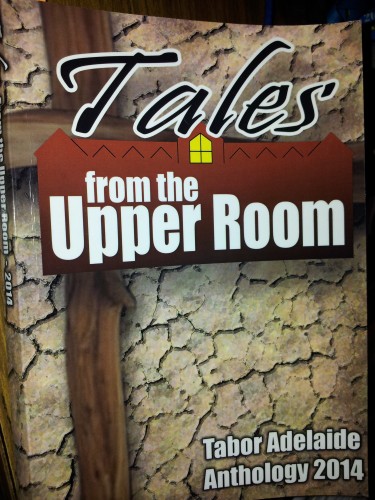 I haven't been sharing some of my recent publishing successes here, but this one is a little special to me. Two nights ago I attended the launch of the latest volume in the series "Tales from the Upper Room", and anthology of stories and poems written by those associated with Tabor Adelaide. This is where I completed my Master of Arts Creative Writing a few years ago.
The anthology is now in its eighth edition since first being published in 2005 by the staff and students who were the first to be involved in the creative writing course at Tabor. A new volume has appeared every year except one. My stories and poems have appeared in all but the first three volumes.
The collection of stories and poems have been submitted by students, staff and alumni and their family and friends. Each edition is an eclectic collection of the deeply moving, the curious, the quirky, the humorous and sometimes surprising. Many are confronting, all are well written and most are worthy of revisiting.
I only had one poem in this edition, but that's okay with me. It's great to see many new names attached to the selection; this shows that the creative writing courses are alive, thriving and raising the bar of literary excellence.
A word of explanation about the title "Tales from the Upper Room" is in order. The creative writing courses had as their home in the early days a room on the third floor, affectionately known as The Loft. It conjures up images of the writer's garret of legend, and it was here that the first meetings of the writers' group met and where the concept of this anthology was conceived. But the "upper room" also brings to mind the room where Jesus and his disciples met for the last supper before his crucifixion. Tabor Adelaide started as a theological college, and most people associated with it are Christians, adding an interestingly significant appropriateness to the title.
Writing competition:
The launch also included the announcement of the winners and runners-up of the inaugural Tabor Writing Competition. It had two sections: poetry and short stories. This was a brave new venture and with 299 entries was immensely successful. Entries came from every state and territory of Australia. I should add here that I decided not to enter this time. I must set my sights high and aim to enter next time around.
A few years ago I completed my Master of Arts Creative Writing at Tabor Adelaide.You can read about my experiences by clicking on the appropriate category on the sidebar.
It was a difficult and challenging but immensely rewarding experience, something which has vastly improved my overall writing skills. As I write this Tabor is accepting enrolments for the coming semester which starts in July.
For more information on the courses, fees and enrolment procedures visit www.taboradelaide.edu.au or phone (08) 8373 8740 (in Australia). Many courses are now offered to external students, so geography is no barrier to success.
I can recommend the courses and those lecturing.
Good writing.
The more I write posts here on this site and on my other two sites (here and here),  the more I find that I'm invited to speak about my passions: travel, writing and birding. I had another request yesterday to talk about Australian birds but I had to turn it down due to a lecturing commitment.
Today I had the delight and privilege of talking about blogging. I was the guest lecturer at the university where I already lecture, Tabor Adelaide. This was where I completed my Master of Arts in Creative Writing recently (read about that course here).
As regular readers of this site would know, I've been blogging now for almost 7 years. Over that  time I've learned a few things about blogging and enjoy many of the benefits of this writing genre. One of the unexpected spin-offs of blogging has been speaking to various community groups. During my lecture I highlighted some of the other unexpected benefits:
Unexpected benefits of blogging
Having my photographs published in some unexpected places.
Earning some income from my photographs.
Seeing my poems, stories and articles published in some quite unexpected places.
Building a sense of community amongst readers of my sites.
The many comments on my articles from people all over the world.
Other benefits of blogging
These benefits are in addition to the better known benefits of blogging:
 Improving my writing skills; the more your write, the better you get at it.
Feedback from readers in the way of comments.
The creation of some income.
The opening up of various opportunities.
Good writing.
Yesterday I dressed up all smart and official and headed off to Adelaide, about an hour's drive from home. I attended the Tabor Adelaide Graduation Day for 2012. At the same event in 2011 I  graduated, having achieved my Master of Arts (Creative Writing) degree. It was a wonderful day and I had a great sense of achievement.
A few months later I was invited to join the teaching staff and I started lecturing as an Adjunct Lecturer earlier this year. So far it is going really well and I am enjoying the experience – in spite of how it tires me out at my age.  More recently I have agreed to teach a second subject next semester.
Today I was able to witness a number of close friends graduating. I also had the privilege of joining the ranks of staff members during the ceremony.
I would highly recommend Tabor Adelaide to any prospective students. Many of their courses – including the creative writing units – can be studied externally, and even overseas. Semester 2 does not commence until mid-July, so you have plenty of time to enrol. You never know – you could end up with me as your lecturer!
The writing courses are particularly valuable. I regularly write and then submit stories, poems and articles to publishers. When I started the course my strike rate was less than 10% – meaning for every 10 submissions, only one was published. My strike rate is currently 44% and rising. In a few months I anticipate that I will be getting a publication rate equating to one published piece for every two submissions.That's very encouraging.
Good writing.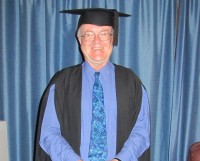 Gardening
Over recent days I have been spending more time out in the garden than at my computer attending to my writing. The spring weather has generally been wonderful and the spring rain a bit above average. The rain has come at about the right intervals to promote and maintain weed growth, hence the need for me to spend a great deal of time in the garden.
A big garden
Let me hasten to add that our garden is no ordinary quarter acre block common to many Australian homes. We have 5 acres (2 hectares) of land on the edge of the rural city where we live here in South Australia. It's a challenge to look after and demands one keep on top of things.
Neglect
Sadly, the property has been quite neglected over the last 3 years while I completed my Master of Arts in Creative Writing. Now that I've graduated I can focus a  little more on the extras – like gardening. One of the most time consuming tasks in recent weeks has been keeping on top of the weeds. We have planted many native Australian plants – like the one being enjoyed by one of our resident birds shown in the photo above. For these plants to really thrive I need to maintain a weed free zone around them. The weeds have a habit of taking over and choking out the growth.
Weeding my novel
This time last year I was doing a different kind of weeding. I was working very long hours – sometimes 10 to 12 hours a day – trying to get my novel into shape. The novel was my thesis paper for my degree and it had to be as near to perfect as possible. I spent many tiring hours weeding out all unnecessary words, phrases and even paragraphs. Every novel, short story, poem or article needs this treatment. Make every word count, weed out every lazy, useless and careless word.
You'll stand a much better chance of getting your writing accepted for publication.
Good writing.