Book review: Return to Me by Lynn Austin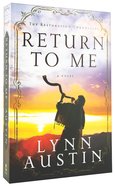 Return To Me by Lynn Austin (Restoration Chronicles #1)
This was the first of Lynn Austin's books I have read. It is the first of her trilogy in the Restoration Chronicles. Having read the first one, I am sure I will read the following two in the series. I am particularly interested in the third book which features the life of Nehemiah, one of my favourite people of the Bible. The book of Nehemiah is one of my favourites in all of the Bible.
I thoroughly enjoyed this novel and will probably read more of her works in the future. This book is a fictional account of the first group of Jews to return to Jerusalem from captivity in Babylon. It is very true to the historical Biblical account.
The main character of the story is Zechariah. The plot follows his early life growing up in Babylon with all of the hardships endured there, including the pressures to conform to the social moralities of the Babylonian culture and religion, including astrology. The sudden change on the part of King Cyrus is greeted with great joy by the Jews in captivity, and plans are immediately made for them to return to Jerusalem to begin life anew in their home country. The author cleverly portrays the family conflicts which arise, with families being torn apart, some remaining in Babylon, with others leaving for the long journey home.
The reader is given an in-depth impression of the physical hardships endured on the journey and the subsequent struggles to establish themselves in Jerusalem and in the surrounding countryside. The author never shirks from also drawing out in depth the spiritual pressures placed upon this band of people, especially the constant exposure to the paganism and astrology of the neighbouring Samaritans. The stark contrasts between the Jewish faith and the faith of other people living near Jerusalem is explored in many ways in the novel.
Zechariah features prominently in this account. Towards the end of the story, we see him as the prophet whose book we read in the Old Testament. The author strongly portrays a young Zechariah in the early stages of his developing spirituality, and how he has a growing awareness of his special relationship with God. Austin never strays from showing the internal spiritual struggles of Zechariah, as well as his grandfather and mentor, Iddo.
I only have one little criticism: the frequent changes of point of view can take a little getting used to, but overall, this is a very well written and enjoyable account. The novel has one enduring strength: by being written as fiction, the author can draw each character in compelling and intriguing depth, while never losing sight of the facts of the historical foundations of the narrative.
Highly recommended.