Archive for the 'Events' Category
Happy Australia Day to all of my readers.
For all of my non-Australian readers let me explain. Australia Day celebrates the arrival of the First Fleet carrying soldiers and convicts to Sydney in 1788. They were the first Europeans to settle here and were followed soon after by many free settlers.
Traditionally families have gathered on this special public holiday for picnics, barbecues, games of cricket or tennis and swimming at one of our many thousands of wonderful beaches. Many people also go boating or sailing in our wonderful waters, like Sydney Harbour shown above. This is also a time of year when there is much on offer in the way of international sporting events to attend or watch, including the Australian Open Tennis in Melbourne.
And what did I do?
Not a great deal apart from some reading and writing here on this site and on some of my other sites (see Trevor's Birding here as an example). It was cool here in South Australia with a little light drizzle – can't call it rain – and not at all like the normal hot weather we usually expect at this time of the year. Still, I don't mind the milder form of summer we are currently enjoying.
This evening I took my wife to our local cinema to see the Australian film The Water Diviner directed by and starring Russell Crowe. This powerful and engaging film tells the story of a father looking for his three sons who went missing in action during World War I at Gallipoli in Turkey in 1915. The story, based on real events, poignantly relates this father's anguished quest to find his boys after the war in 1919. The movie was filmed partially here in South Australia in places we know well.
For non-Australian readers this movie will not open outside of Australia for a few months yet, so I recommend that you look out for its release.
Over the years I have plodded along with my writing on this site with little attention to milestones along the way. Only today I suddenly realised that I have passed two significant points quite recently.
Milestones:
I have now written over 1000 posts here on Trevor's Writing.
I have now written approximately three million words over the last 22 years.
Not all of those words were on this site – the figure includes several novels, a daily journal, dozens of essays for my Masters degree, more than 2600 articles on my other sites Trevor's Birding and Trevor's Travels, and thousands of emails and letters. Oh… I forgot – I also do all of the maintenance and most of the writing for our church website here.
No wonder my fingers are tired.
Archives
The archives of this site now contain over 1000 articles about writing, writing ideas, reading, books, teaching, reviews, poems and short stories. You can access this amazing resource here, or go to the Archives button above.
You can also access articles on various themes or topics in 3 other ways:
The Contents section on the sidebar.
The Categories on the sidebar.
The search button near the top of each page.
The future
As impressive as all of the above is – in my mind anyway – there is one thing I would like to add: "You ain't seen nothing yet, folks." Planned for the future include:
Many thousands more articles about writing.
More reviews and essays.
More writing hints and ideas.
More poems and stories.
News of forthcoming ebooks and printed books.
Please help me:
I am open to suggestions about what my readers would like to see here on this site. Please respond in the comments, or send me a short email via the Contact form above.
Good writing and reading.
I think I need to give my fingers a rest – and go read a book.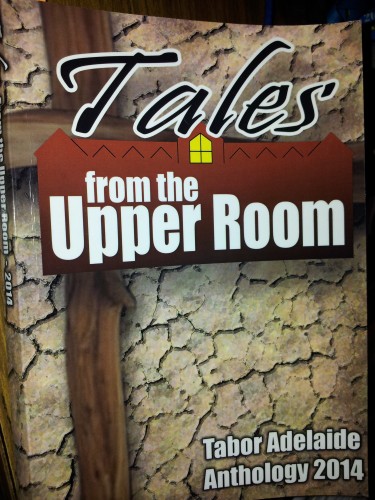 I haven't been sharing some of my recent publishing successes here, but this one is a little special to me. Two nights ago I attended the launch of the latest volume in the series "Tales from the Upper Room", and anthology of stories and poems written by those associated with Tabor Adelaide. This is where I completed my Master of Arts Creative Writing a few years ago.
The anthology is now in its eighth edition since first being published in 2005 by the staff and students who were the first to be involved in the creative writing course at Tabor. A new volume has appeared every year except one. My stories and poems have appeared in all but the first three volumes.
The collection of stories and poems have been submitted by students, staff and alumni and their family and friends. Each edition is an eclectic collection of the deeply moving, the curious, the quirky, the humorous and sometimes surprising. Many are confronting, all are well written and most are worthy of revisiting.
I only had one poem in this edition, but that's okay with me. It's great to see many new names attached to the selection; this shows that the creative writing courses are alive, thriving and raising the bar of literary excellence.
A word of explanation about the title "Tales from the Upper Room" is in order. The creative writing courses had as their home in the early days a room on the third floor, affectionately known as The Loft. It conjures up images of the writer's garret of legend, and it was here that the first meetings of the writers' group met and where the concept of this anthology was conceived. But the "upper room" also brings to mind the room where Jesus and his disciples met for the last supper before his crucifixion. Tabor Adelaide started as a theological college, and most people associated with it are Christians, adding an interestingly significant appropriateness to the title.
Writing competition:
The launch also included the announcement of the winners and runners-up of the inaugural Tabor Writing Competition. It had two sections: poetry and short stories. This was a brave new venture and with 299 entries was immensely successful. Entries came from every state and territory of Australia. I should add here that I decided not to enter this time. I must set my sights high and aim to enter next time around.
Would the person who invented global warming please switch it off?
Here in South Australia we have had a warm summer – no, make that an extremely HOT summer. Adelaide is the capital city of our state and today it recorded its twelfth day over 40C (104F) for the summer, eclipsing the previous record of 11 days set 117 years ago. And the forecast for tomorrow is 42C, extending the new record even further. While the next few days after that promise to be a little cooler, we still have 17 days of summer left.
While the city temperatures have been very high this summer, the large rural town where I live – Murray Bridge – is usually a few degrees hotter again. Every summer we expect at least three or four days in the region of 45C (113F) or even higher. On days like that one simply avoids going outside unless it is absolutely necessary. By way of extreme contrast, the following day it can plummet to about 20C (68F) with a strong southerly cool breeze off the Southern Ocean.
You get used to it…
…or move to Tasmania, New Zealand or Alaska.
Getting the energy and motivation to write on such extreme weather days can be a challenge but one I relish. It means I have an excuse to bunker down in my office… and write – or read. I have a small air conditioner in the office, but it really is not up to the task of cooling the whole room. It's okay if I aim it directly at me. So last week we invited an air conditioning consultant in to assess what we could do to improve the situation. I haven't ordered a new split system yet, but I will do so soon.
It may be too late for this summer – there is a 4 week delay in installation – but the heating capacity of the unit will be great on those chilly, nose-biting frosty mornings we get here in winter.
And then there's always next summer.
UPDATE: 14th February – the cooler weather has arrived as promised by the weather bureau, and so has the rain. We've had over 70mm in the last 24 hours. Considering that our average for February is only 15, and our annual average 344mm, this is a significant weather event.