Search Results for 'reviews'
A long, long time
It has been a very long time since I have written a post on this site. While there still is steady traffic to the many articles I have written over the years, I feel a little embarrassed about the lack of new content here.
A Deep Fog
I am currently coming out of a deep fog regarding my writing. This has lasted for well over 18 months. Initially, it was because much of my energy was taken up with fulltime caring for my wife. Next, it was dealing with her passing in January 2018, followed by all of the official matters dealing with wrapping up all of her affairs, followed closely by adapting to single life again after 47 years of marriage. At times it was difficult,  at times it as depressing, and at all times it was challenging. And sometimes the grieving process, something that I necessarily had to experience, was debilitating. It left me little energy to devote to my writing.
Family visit
Just over a week ago, I left home in Murray Bridge, South Australia (near Adelaide) to drive to Sydney to visit my son and his family. I love seeing my two grandchildren growing up – it is happening too quickly at times – and also experiencing a part of their lives for a short time.
A different route
On the way, I took four days to get to Sydney instead of the normal two days. I took a different route for a change, travelling on some roads I hadn't used for many years, as well as other roads which were completely new to me. Along the way, I enjoyed plenty of birding and photography, two of my many interests. I write about the birds I see and share photos of some of them on Trevor's Birding.
Books and more books
As I stated at the beginning of this post, I have been living through a fog regarding my writing. I have still been writing regularly in my personal journal and a few other minor things, but the energy for serious writing to share with the world has been elusive. During this time of readjusting my life, I have been reading a great deal. I have read a steady stream of excellent novels, many articles and some books about writing as well as some inspirational books which have ministered deeply to my Christian spiritual needs. Many of these books I hope to review here on this site. Some I have already given short reviews on Goodreads.
A new enthusiasm
Having a short break away from home has given me a new perspective, and, I hope, a new enthusiasm to go on with my writing. I hope that this short holiday will be just the tonic I need to get on with new writing projects – I have a long list of potential stories and novels – as well as get many old projects launched out into the big wide world.
Good writing. Good reading.
Trevor
It has been far too long since my last entry here.
Sorry about that.
Sometimes life gets in the way. Writing articles here became a very low priority. I hope that you haven't missed me too much.
Vale, Corinne
In the latter half of 2017, I became the full-time carer for my wife, Corinne. She had experienced many bouts of illness in her life from when we were first married – some 47 years ago. Her health deteriorated rapidly in the last few months of last year and we had many trips to the local medical centre as well as many drives to Adelaide for treatment – some 80 kilometres away (about 1 hour).
We were pleased to be able to celebrate Christmas as a family; our daughter who is currently teaching in Ethiopia flew home, and our son and family drove over from Sydney (about 15 hours' drive). It was delightful to have the grandchildren here for this special occasion.
In the middle of January and after the second round of radiotherapy, my wife went downhill very rapidly.  After a short stay in the local hospital, my wife passed peacefully and pain-free from this life on the 21st January 2018. She was surrounded by immediate family. Her funeral a week later was well attended by a wide range of people from many different aspects of Corinne's life. It was a celebration of a life well lived with an impact on the lives of so many people.
I have written an obituary on her website, Mallee Native Plants Nursery here. She was a keen admirer and grower of Australian native plants. Her website contains a wealth of information on our plants and how to propagate them. I will maintain this site, for the time being, adding some new articles from time to time. Her nursery has now closed down and there are no plants for sale.
Her interest in our plants rubbed off on me and it complemented my interest in birds. Both of us loved sharing our flower photos and she grew to appreciate our beautiful bird life too. One of her favourite birds appears at the top of this post. She loved seeing all the birds in our garden, including the Eastern Rosella shown above whenever one of them came to our bird bath.
The photo below was taken at Christmas time in 2017. She was helping her two grandchildren to put the icing on the honey biscuits made especially for the occasion.
The future
I plan to get back into sharing my writing, book reviews and hints about the writer's life here on this site over the coming weeks and months and – I hope – years. Last year I bought myself a new camera and this is proving to be more than I had hoped for – so expect many more photos to be shared as well. I am not yet ready to get back into travelling, but I definitely have plans to do so.
In the meantime – good reading and writing.
Trevor.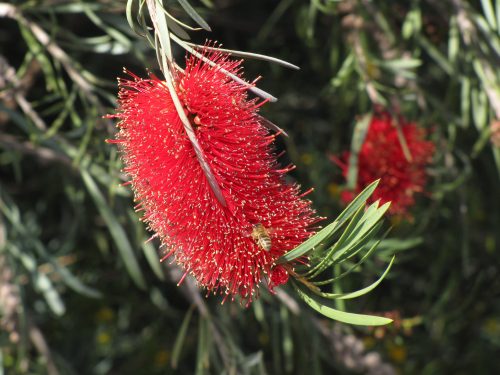 This site, Trevor's Writing, is celebrating its 11th Anniversary today.
It hardly seems like eleven years, but time flies when you are having fun. The start of this blog was soon after I retired from 35 years of teaching. (You can read more about me here and here)
Loyal readers – I salute you
Over the years I have been adding various articles here about writing, reading, publishing and many other things along the way. Sometimes I have posted regularly every few days; at other times I have gone weeks and sometimes months between posts. To anyone who has remained a regular reader – I salute you. Such patience and loyalty should be rewarded, but sadly, all I have to offer you are promises.
Works in progress
Over recent days and weeks, I have been working on a short novel for children. I hope to publish this soon, first as an eBook and then as a print book. Stay tuned. I have many more plans to self- publish many of my works of fiction, non-fiction and poetry. As a side project, I am also adding occasional entries to my memoirs. At this point, I am not sure if this will be a limited publication for family and friends only, or more widely available. We will see how it turns out.
Works still to come
I have plans for many more posts here on this site, as well as plenty of self-published eBooks and print on demand books. I can see an exciting future ahead, so stay with me. Over the last 25 years, I have written well over three million words, a good proportion of those words are on my blog sites. In addition to blogging, however, I have many unpublished works – novels, short stories, poems, articles and plays. Many of these I plan to polish, edit and publish, with a little rewriting as needed. I also have a half dozen picture book texts waiting to be sent off to traditional publishers.
Imagination
On top of all of the above writing, rewriting, editing, proofreading and so on, my fertile imagination won't just stop. It keeps on coming up with great ideas to write about. Several ideas for novels have been bubbling away in my subconscious for months – some even years. Somehow, they must get written and out there for the world to enjoy.
Meanwhile…
I will keep the posts coming on a wide variety of topics, from publishing and writing hints, story ideas, writing prompts, poems, short fiction, book and film reviews and more.
Newsletter
Go to the sidebar or below the comments to sign up for my regular newsletter. It has been so regular, in fact, that issue #1 still hasn't been written. (Sigh – that's another thing I plan to write.)
Why not stop by and leave a comment or two?
Good reading, Good writing,
Trevor
Further reading:
Requests
From time to time I get requests from readers to write guest posts for this site (or my other sites Trevor's Birding and Trevor's Travels).
All my own writing
I guess I should be flattered that someone else would like to write articles here for me. It is somewhat encouraging that other writers value this site so much that they wish to write for me. The truth is – I write all of my own material. I have always written all of my own material on my various sites, except for our church site which is mostly my writing but occasionally the writing of others.
Over a thousand articles
This writing site has been in existence now for almost eleven years – I will celebrate its 11th birthday in early March. During that time I have written over a thousand articles. These have included examples of my poetry, some of my short stories, reviews of books I have read recently, and articles about the craft of writing. Included in the latter is a whole series on how I went about writing my novel and thesis paper for my Master of Arts Creative Writing degree a few year ago.
How to search my site
All of these articles, stories, reviews and poems can be accessed via the search facility at the top of each page, or via the archives, also near the top. Or you can use the cloud on the sidebar to look for specific topics.
Future policy changes
Things may change here on this and on my other sites. I may get to the point where I am so busy working on new projects – such as writing, publishing and promoting my novels – that I won't have much time to write articles here. If this happens, I will announce this change of policy here, as well as in my regular newsletter.
Get my newsletter
You can easily subscribe to my regular newsletter by clicking on the title of any post, then going to the bottom of the page to sign up. I plan to publish these newsletters once a month this year. They will have information not included on this site, as well as details of upcoming publications. I would be delighted if you joined my growing number of regular readers.
Trevor
PS The photo below has nothing to do with writing. I took it on a recent holiday and think that it is a lovely photo of a beautiful Australian native plant.