Archive for September, 2019
Always a reader
I have always been a reader. My earliest memories are of always having a book or two to read. The example was first encouraged by my parents. My father regularly read the local paper called the Murray Pioneer which was published weekly in the nearby town of Renmark, South Australia. As far as I know, this paper is still publishing over 60 years later.
My earliest writing
I can also remember Dad reading the weekly paper simply called The Chronicle. This was primarily aimed at farmers like my father and was full of useful articles for those living on the land. As far as I can determine, this publication ceased in 1954. I think that I read parts of this paper, mainly for the cartoons. Dad also read parts of the weekly paper called The Sunday Mail. I still enjoy reading this paper which is based mainly on South Australian news. Some of my earliest writing was published in the children's pages of The Sunday Mail.
My mother's example
My mother also set an example to me regarding reading. Her main interests were in reading various women's magazines such as the Australian Women's Weekly. This is still being published, though now it is issued once a month. She also read New Idea, a similar publication aimed at women. As a young writer, I remember the thrill of having some letters published in these periodicals. I was even paid for my letters, a whopping five shillings (50 cents) which was a lot in the 1950s.
In my blood
I guess that writing was in my blood at an early age. Somehow, I was sidetracked into teaching for 35 years, though that brought a great deal of satisfaction.
Childhood books
As a child, I always remember having books in my home. I would always ask for books for Christmas and my birthday. There was always a book prize from the local Sunday School Christmas breakup and I eagerly looked forward to receiving one for good attendance. Any new book was devoured in a matter of hours. I remember reading many Enid Blyton books – Famous Five and Secret Seven among many others. I probably read many of the W.E. Johns' Biggles series which were popular at the time.
School Libraries
The primary (elementary) school I attended was about a ten-minute walk from where I lived on the family farm. Taplan Primary School never had more than about 30 students and I have very pleasant memories of my school days there. A good proportion of the students were also my cousins. This one-teacher school had a library corner with only several hundred books. This was naturally a magnet for me and I read many of the titles in this small library – though I can't recall being able to borrow the books to take home. I do remember having a small, compact Collins Gem Dictionary which I took to school every day and home again in the afternoon. I would frequently consult this little book, constantly learning new words.
High School Library
I think that it was 1961 when I started at Loxton High School for my secondary education. Here is where I really began to read voraciously. The school had a large room full of books and I was able to borrow them to take home. Many of these books were devoured on my 40-minute bus trip to and from school. It was here that I discovered the delights of fantasy, especially science fiction.
Readers; please leave some comments about your earliest childhood reading influences and habits.
Good reading and writing,
Trevor
It is a wonderful privilege to grow old. I am approaching my 72nd birthday. It will be in two months' time and I am amazed when I think about all those years. I say that it is a privilege to grow old because it is something denied so many.
Distressing
I find it somewhat distressing when I hear of so many who don't reach their 70s, or 60s or even 50s. It is also so sad when people of much younger years die before even reaching middle age. While it is tragic when illness takes a young life, it is equally tragic when it is caused by an accident. This year there have been so many deaths in Australia as a result of car accidents, for example.
Mental state
One of the interesting aspects of ageing that I didn't expect concerns my mental state. For more than a decade I have observed that I don't mentally feel my age at all. This attitude changes periodically when I try to do some hard physical work such as gardening. Then I really do feel my age! And the resulting aches and pains are constant reminders that I need to take physical activity in smaller doses.
Appearance
Another interesting aspect of my personal ageing is my appearance. It seems that I have always been blessed with a youthful appearance. Over recent decades, various people have estimated my age to be ten or more years younger than my actual age. That's a nice thing to tell me. Only yesterday while chatting with my eight-year-old granddaughter, she said that I do not look like I am nearly 72. Bless her little heart.
Teaching young children
I think that having a younger mental attitude comes from spending 35 of those years teaching young children, mostly those in the 6 to 10-year-old bracket. Now in retirement, I have regular contact with my grandchildren – ages 8 and nearly 11 – and this also helps to keep me mentally young.
Grandchildren
I am writing this while I am staying with my son and his family. Over the last two Sunday afternoons, I have also had the privilege of taking my grandchildren to a nearby playground for a few hours. They have ridden their bikes while I drove my car; it's too far for me to walk. Interacting with them as they play and invent games and challenges on the playground equipment is so stimulating to both the children and me.
Backyard play
Even when we don't go anywhere, we often spend time in their backyard. They have an old, gnarled mulberry tree which they invent adventures while climbing. They both have very fertile imaginations. They also play other games, especially while on their much-used trampoline. Watching them play, and interacting with them during their playtimes is deeply satisfying to me. Once again I realise that these privileges afforded to grandparents is a delight denied so many people. I especially feel for those who may be estranged from ever spending time with grandchildren. Or those with no prospect of having grandchildren.
Challenges of ageing
However, old age does have its many challenges. All those aches and pains, regular doctor and specialist appointments, far too many tablets to take and a general slowing down in physical activities are the downside. I prefer to look at the many delights and privileges of growing old.
Comments please
I would love to hear from my readers in the comments section about your delights and challenges of ageing.
Eleanor Oliphant is Completely Fine by Gail Honeyman.
I took a chance on this popular book and I am so pleased that I did.
Once you get through the first few pages, it is obvious that Eleanor is not completely fine. From a very protected and regimented routine, she learns to accept changes to her life, many of them imposed upon her. This adversely affects her with extreme challenges to every aspect of her rather sheltered life.
Eleanor's social life is largely non-existent. Her only social contacts are at work in the accounts department of a large graphic design company. She keeps very much to herself and rarely has contact with anyone on weekends, except while shopping. Her solitary weekends are spent alone with two large bottles of vodka to numb the pain of her self imposed social isolation, as well as the memories of a painful childhood.
When she has problems with her work computer she meets the company IT specialist Raymond. He is her complete opposite. She finds his eating habits repulsive, his dress sense totally lacking and his general lifestyle choices unfathomable. In a random act of care, they join forces to help elderly Sammy during a medical episode. From that point on their relationship blossoms into a close friendship.
Eleanor becomes infatuated with a musician who becomes the catalyst for her to undertake a complete makeover in her appearance. When a carefully planned encounter with the "man of her dreams" goes terribly wrong, Eleanor's world crumbles to ruins around her. She tries to erase the pain through excessive drinking of vodka until Raymond comes to her rescue. At his insistence, she seeks medical help.
Through many sessions with a compassionate and understanding psychologist Maria Temple, Eleanor slowly confronts her horrific childhood memories. The focus of these sessions eventually helps Eleanor to distance herself from her cruel and obsessive "Mummy".
Her extremely quirky nature reminded me so many times of Don Tillman (The Rosie Project). I very much enjoyed this novel and the twist at the end caught me by surprise.
Brilliantly written.
Highly recommended. I give it five stars.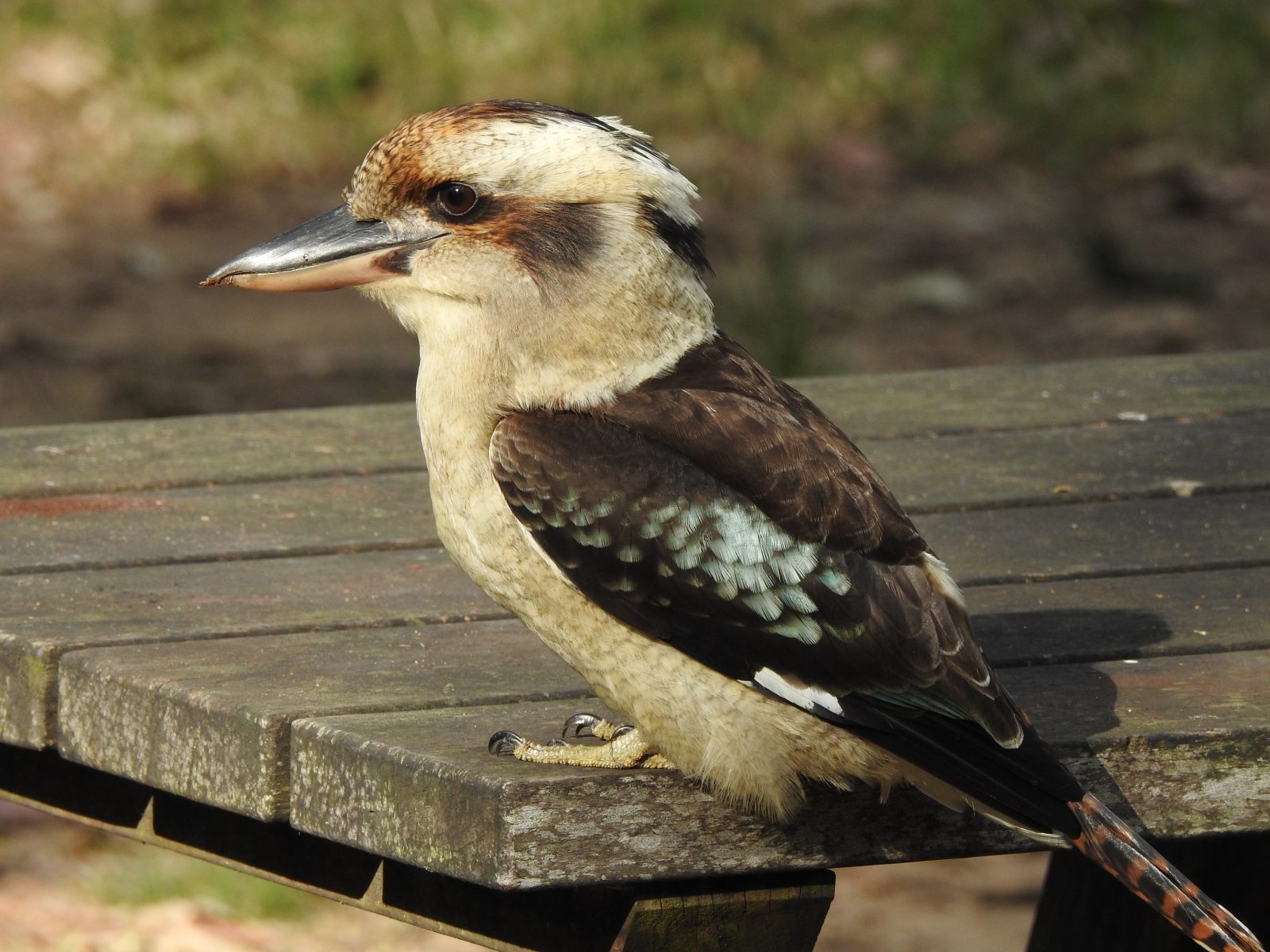 I love that wonderful feeling, first thing in the morning, when one wakes up after a good night's sleep. That feeling of contentment on being totally rested. That feeling of cosiness in a warm bed on a frosty morning. That feeling of wanting to stay wrapped up in a comfortable envelope of blankets and quilt.
I had those feelings yesterday morning. Right about when the light of dawn was creeping into my room. My brain was still in neutral. I wasn't yet fully awake, nor fully asleep.
Then all this suddenly changed.
From one of the street trees came the unmistakable call of two Laughing Kookaburras. This is the sound that is so delightful that I love hearing it. I rarely get to hear it at home in Murray Bridge, South Australia. But here, staying in Sydney with my son and his family, it is so commonplace that many locals probably are not even aware of it.
The joyous laughing call of the Kookaburra is completely iconic in the Australian bush. It is also readily heard in many urban environments as well. It is unmistakable; most people would easily recognise this call. There is nothing else like it. It certainly made my day yesterday.
Laughing Kookaburras only occasionally visit my garden. In fact, I have only recorded this species once in the last twelve years despite being present in many nearby locations. On the other hand, I have many other species of birds in my garden and many of them go a long way to filling the gap left by absent kookaburras.
I love hearing the carolling of the Australian Magpies which are a resident species in my garden. The delightful song of the Willie Wagtail is also an everyday occurrence – and sometimes at night when there is a bright moon shining. The various species of honeyeaters also join in the dawn chorus, and the endearing mewing of the White-browed Babblers is a joy too as they hop around outside my bedroom window seeking their breakfast.
When I am home there is only one bird sound I do not like to hear. For a few days some years ago a Little Raven came to my bedroom window around dawn and tapped loudly on the glass with its large beak. It was responding to the perceived threat from its reflection in the glass. It was very annoying.
Further reading:
Little Ravens feeding their young
Little Ravens caught thieving
A cheeky raven at Monarto Zoo
A short visit to Lane Cove National Park