Archive for April, 2014
"Naveed" by John Heffernan is the second in the "Through my eyes" series of novels set in war zones, told from the perspective of children caught in such conflicts. "Naveed" is set in Afghanistan, a war we have heard so much about, but in reality know so little of the suffering of innocent people caught in the crossfire.
Naveed, the main character, is totally tired of the war tearing his country – and family – apart. His father is dead, yet another victim of the war. Yet it is Naveed, his sister Anoosheh and his mother who are the real victims. His sister lost her legs when a land mine exploded and his mother cares for them as best she can in a small rented room. There is the constant battle for enough money for food and for their greedy landlord.
Naveed works the markets, taking whatever jobs are on offer, in an effort to care for his mother and sister. Too often he is the target of street gangs until he adopts a street dog Nasera. The dog quickly becomes not only a protector from the gangs, but also one displaying extraordinary abilities. Befriended by an Australian soldier, Naveed and Nasera team up to make a difference to the people living around them.
"Naveed" is a fast moving, exciting story giving a close up view of life in modern Afghanistan in the midst of a terrible conflict. The main characters, Naveed and his family, are strongly drawn characters one immediately cares for, and as the plot develops a sense of foreboding looms – with a totally believable outcome. The ending brings a sense of hope for the future of this ravaged country and its people.
Highly recommended.
"Naveed" is published by Allen & Unwin.
Teachers' notes and an interview with the author can be found here.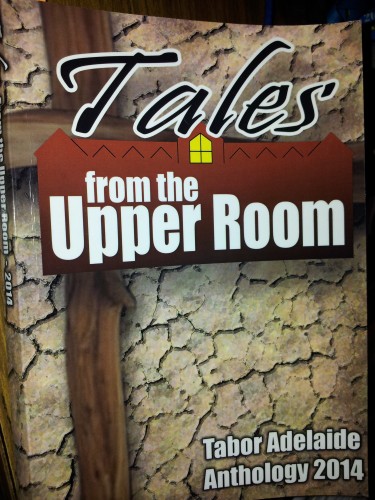 I haven't been sharing some of my recent publishing successes here, but this one is a little special to me. Two nights ago I attended the launch of the latest volume in the series "Tales from the Upper Room", and anthology of stories and poems written by those associated with Tabor Adelaide. This is where I completed my Master of Arts Creative Writing a few years ago.
The anthology is now in its eighth edition since first being published in 2005 by the staff and students who were the first to be involved in the creative writing course at Tabor. A new volume has appeared every year except one. My stories and poems have appeared in all but the first three volumes.
The collection of stories and poems have been submitted by students, staff and alumni and their family and friends. Each edition is an eclectic collection of the deeply moving, the curious, the quirky, the humorous and sometimes surprising. Many are confronting, all are well written and most are worthy of revisiting.
I only had one poem in this edition, but that's okay with me. It's great to see many new names attached to the selection; this shows that the creative writing courses are alive, thriving and raising the bar of literary excellence.
A word of explanation about the title "Tales from the Upper Room" is in order. The creative writing courses had as their home in the early days a room on the third floor, affectionately known as The Loft. It conjures up images of the writer's garret of legend, and it was here that the first meetings of the writers' group met and where the concept of this anthology was conceived. But the "upper room" also brings to mind the room where Jesus and his disciples met for the last supper before his crucifixion. Tabor Adelaide started as a theological college, and most people associated with it are Christians, adding an interestingly significant appropriateness to the title.
Writing competition:
The launch also included the announcement of the winners and runners-up of the inaugural Tabor Writing Competition. It had two sections: poetry and short stories. This was a brave new venture and with 299 entries was immensely successful. Entries came from every state and territory of Australia. I should add here that I decided not to enter this time. I must set my sights high and aim to enter next time around.
I had a question posed to me today.
A somewhat disturbing question.
A question which, if taken literally, is very confronting.
If nobody is reading this blog – do I really exist?
Yes, it's a question that has been posed in various guises over the years, but I've never really had it personalised in such a way.
I just hope I can sleep tonight.